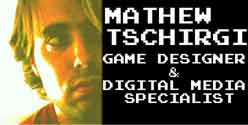 Mathew Tschirgi Presents
His Online Portfolio
This site was programmed in NotePad by hand.
The web-site is designed for use with Microsoft Internet Explorer. Although the page is designed in minimalist HTML, you might want to update your web browser here. Various components of this site may require the use of the latest version of Microsoft's Windows Media Player and the latest version of the XviD MPEG-4 video codec.
If you notice any problems with the website, please send me an e-mail.
4/25/2004
College has been getting busier, but I still managed to do HALO HUNTER for my DIGITAL MEDIA section, a short Flash MX cartoon. Just like LORD OF THE RINGS: THE SITCOM, it was "blammed" by users on Newgrounds in less than 6 hours! Regardless, I think I definitely improved my animation and comic timing with this cartoon.
4/14/2004
Just added some new portions to the DIGITAL MEDIA section of the site: the NES CHALLENGE (a 30-minute documentary I just finished editing about a Nintendo tournament I had with some friends), a WEDDING TRIBUTE video I did for a friend of mine who is getting married, and THE MONKEY ISLAND RADIO PLAYS (a few episodes of a radio play I produced based on the computer game by LucasArts).
3/28/2004
After a month and a half of work, I've completed COMPUTER CAMP CATASTROPHES. I will have updates to the Digital Media section coming soon and at some point I'll plan a short game project that I'll make using Game Maker 5.0.
2/26/2004
I just finished a rough draft of the screenplay for the the COMPUTER CAMP CATASTROPHES project. I also have done some graphics and level design for it, although it will take longer than expected-- it is nearing finals week at school and things are getting very, very busy.
Please choose a link below to access various parts of the virtual portfolio.